One of the most popular of all the dirt-track Modified stock-car racers, Emil "Buzzie" Reutimann of Zephyrhills, Florida, enjoyed a lengthy career on the Northeast's short tracks and his résumé includes several major victories and track championships. He is also remembered for the "GO FIRST CLASS" motto on all of his "Double-O" racers and being the last to field a winning 1937 Chevy coupe in dirt-track Modified competition when everyone else in the mid-1970s was turning to Gremlin- and Pinto-bodied race cars. A second-generation racer, the bespectacled Reutimann (May 7, 1941) – who got his nickname when nurses in the hospital heard the newborn making "buzzing noises" – first began racing at age 13 in a black 1939 Ford coupe that he found behind his father's Chevrolet dealership and updated with a Sears-Roebuck rebuilt engine. After learning his craft, young Reutimann inherited his father's No. 00 1935 three-window Chevrolet coupe – in which a full-race Chevy inline-6 truck engine was installed – and that served him well in Sportsman and Modified races from the late 1950s into the early 1960s. However, when "Buzzie" learned from Tampa resident and fellow EMPA Hall of Fame member Will Cagle of the big purses being offered in New York, New Jersey and Pennsylvania, he brought the first of his signature red, white and blue No. 00 1937 Chevrolet coupes to the Northeast and started a career that made a major impact on dirt-track Modified racing.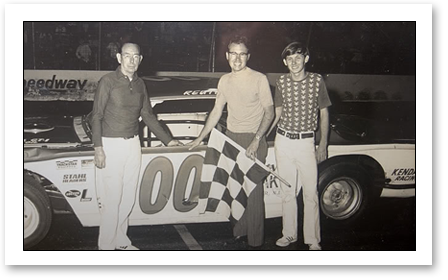 The "seasonal resident" of Asbury, New Jersey – who would return to Florida in the winter to race Late Models – won the 1966 championship at the old half-mile East Windsor (N.J.) Speedway. He won 33 races at the old half-mile Nazareth (Pa.) Raceway and its 1972 & 1973 track titles, and had 33 victories at the 5/8-mile Orange County Fair Speedway in Middletown, New York, to go along with the "hard clay's" 1972 & 1974 championships. Major extra-distance victories include: the 1970 Daniel Boone 200 at the old Reading (Pa.) Fairgrounds: a 150-lapper at the old 1-1/8-mile Nazareth (Pa.) National Speedway in 1971; the 1972 Eastern States 200 at OCFS; the first two Schaefer 100s (1972 & 1973) at the New York State Fairgrounds in Syracuse – the event now known as the Super DIRT Week 200; and, the 1975 National Dirt Track Championship 200 at the old Flemington (N.J.) Fair Speedway.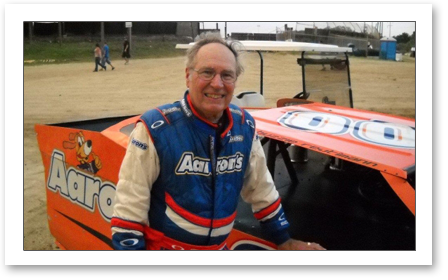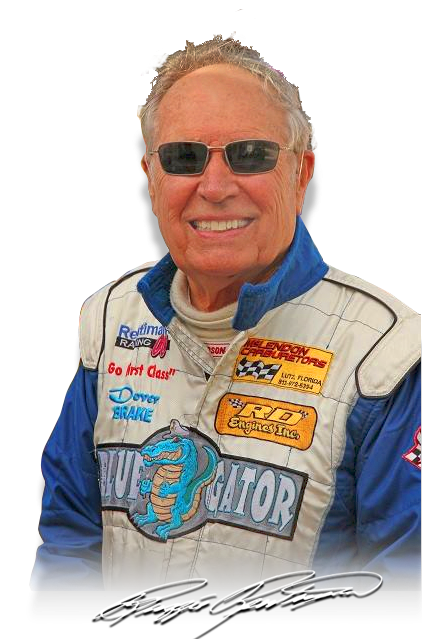 But Reutimann did not limit himself to dirt-track racing as he also ran a No. 00 Chevrolet Camaro in several asphalt events. But his most famous paved-track effort was in 1973 at the old 1/5-mile Islip Speedway out on Long Island when he defeated many of the best asphalt racers in the All-Star Racing League 100 with his trusty dirt-track Modified 1937 Chevy coupe. Like many of the professional racers of his era, Reutimann built all of his own cars and when Modified chassis changed from reworked mid-1950s Chevrolet frames to production-built 2 x 4 items, he "Reutimann-ized" those purpose-built offerings to meet his own specifications. Reutimann is also credited as the first to install a power-steering system in a dirt-track Modified. And when he eventually stopped building Modifieds with classic 1937 Chevy coupes his traditional red, white and blue No. 00 rides used Chevrolet Vega or Gremlin-styled bodies. In 1985, Reutimann suffered serious head and neck injuries in a grinding Turn-4 crash at Syracuse, but he recovered and returned to race 11 more years. However, after 31 years as one of the sport's top stars, "the Buzz Bomb" retired from Northeast dirt-track Modified racing after the 1996 season and went back to live full-time in Florida where he continues to race and win in his No. 00 IMCA Modified. And when not doing that, "Buzzie" Reutimann is frequently seen on the NASCAR Cup Series circuit with his driver-son David.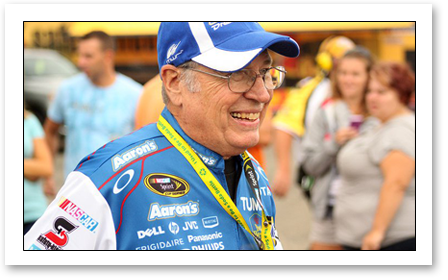 What you need to know about Buzzie Reutimann
By Larry Jewett (March 02, 2010)
Original Story: www.onedirt.com
He stood in Victory Lane at Florida's East Bay Raceway Park. It was Saturday, October 3, 2009 and he was there because he had driven a hard race in his open wheel Modified. He was there as the winner. He is Emil "Buzzie" Reutimann, a man who has made a name in racing in two regions of the country. If you say his name in Florida, people know it. You can say it in New York and Pennsylvania and get the same response, even though he hasn't raced there competitively in many years.
Some in the New York and Pennsylvania region will claim him as their own. In reality, he was born in Florida, where he resides today. It's like the Alabama Gang – the Allisons and Red Farmer weren't born there, but migrated there in search of racing. Such was the case for Buzzie Reutimann.
Double Nothing.
"I wanted to be a racer," he said about his decision to spend summers of the '60s and '70s in the Northeast, rather than hang around his Zephyrhills, Florida, home. "I didn't really enjoy the Chevy business any more. I'd been a service manager and a body shop manager and then in 1959 when GM came out with warranties, you just couldn't make any money at it."
"That's the nearest thing to nothing I've seen. In fact, It's double nothing."
Buzzie in 1969
He left the family business behind, but he was already an established racer when he answered the call of the road. His father, Emil, was a formidable racer in the region in the '40s and '50s. Buzzie went along and watched his father. Seeing the racing action and living next to the Zephyrhills Auto Company made his desires easy to figure out.
By the age of 13, Buzzie said, "I can do that." So his father told him to build a race car. He took a '39 Ford and went to work. The original engine had to do for now, though there was a store-bought Sears engine in its future.
The story goes that Buzzie was working on his car and his dad passed by. Watching the progress, his dad reportedly said, "That's the nearest to nothing I've ever seen. In fact, it's double nothing."
The B00 Car.
And that's where the number "00" came from. It's a number that Buzzie and son David carry to this day. You'll sometimes see a letter with it. In the case of Buzzie's first car, it was B (for Buzzie) 00 and the car was called the "boo" car. It didn't take long for the booing to echo from the stands as Reutimann got better and better at it.
The first race for Buzzie came at Silver Dollar Speedway in Lakeland, Florida, where he started seventh and finished fifth. It was quite a workout and, even though he was young, he was winded at the finish of the event. Heavy stock cars of the period weren't blessed with power steering or any aspects to make the chore easy.
Realizing Better Success at Racing.
By now, you're thinking "Buzzie" came from his ability to buzz around the track and sting the competition. Actually, he was Buzzie at a very young age when nurses at the hospital noticed him making a buzzing sound right after his birth in 1941. He's been Buzzie ever since.
Buzzie raced through his teen years and really picked up the pace upon graduation from Zephyrhills High School, where he played a little football, but realized he could have better success at racing.
Buzzie was a frequent competitor at the North East Tracks.
The idea of success and the amount of racing done in the Northeast proved to be the driving force behind long summer trips from the late '60s through the early '70s. "Will Cagle told me that there was racing at least three nights a week up there, so I followed him up there. We kept our car in the same shop. We'd race at places like Hightstown, Orange County Fair Speedway, Flemington, Nazareth. I almost went broke a couple of times, but we kept at it. One time, it rained for several weeks on end."
"We went to Reading (Pennsylvania) and I got lapped in a 10-lap heat race. I had some learning to do. We'd go to the places that paid tow money, so we'd have at least a little bit. I got to the point where I raced for tenth. They were paying $125 for tenth and if you could do that a few times, you'd make good money. As time went on, I started to race for fifth, which meant better money. By the end of the first year, I came out with enough money for two cars. We had a mud car that we'd run at Reading because you needed the engine set back. The car with the engine set forward would be used at places like Flemington."
Only making one start in NASCAR's Premiere Series, NASCAR has still played a big role in Buzzie's life.
Buzzi's NASCAR Start.
Before making his trip up north, Buzzie had competed in a NASCAR race. It was held at Florida's Golden Gate Speedway, one of Buzzie's regular stops. Richard Petty won it…Buzzie finished in the top 10. When Buzzie was in Florida, he was racing mostly paved tracks. His journeys to the Northeast saw him racing mostly dirt tracks. A racer had to be versatile and he could do it all.
The call of NASCAR was strong, but too many things went against it. The Golden Gate race was Buzzie's only NASCAR start. "We could have run more," he said, "but we made more money running like we did. We decided to stick with dirt rather than follow NASCAR. They didn't have that many races and we could run six nights a week sometimes when we would do the All Star League events in the Northeast."
NASCAR eventually played a critical role in Buzzie's life, a role that is ongoing today. Buzzie is the father of current NASCAR Sprint Cup competitor David Reutimann. In many ways, the relationship between Buzzie and David was exactly like that of Buzzie and his father.
Keeping the Power Down.
Emil Sr. didn't just give his son Buzzie anything he wanted. He intentionally kept the power down on Buzzie's car, giving the youngster a chance to learn everything before picking up the speed or moving up to the Sportsman class. In the same respect, Buzzie started David's auto racing with a Pontiac Sunfire, a four-cylinder car that David, along with his friend and current Sprint Cup crew chief Brian Pattie, had to build and maintain. Through this exercise, David learned how to weld for fixing and repairing. "You didn't just go to the bank and get money for high dollar parts. You fixed what you could and when you could, you fabricated the rest". The abilities to fabricate and address mechanical issues can go a long way in a racer's career. The learning didn't stop in the shop either.
"We thought we had built a better car because the Pontiac had a 2400cc engine and most of the rest of the cars were 2300cc," Buzzie recalled. "What we didn't consider is that the rules said the car had to weigh a pound for each cc, so we were 100 pounds heavier than the other cars. David learned to drive it harder. It was bred into him and even now he will take a car deeper into a corner. He's telling the crew to fix the car for his driving style and he got that style when he started racing."
Running with the Circuits.
While David is driving at places like Charlotte, Kansas, Michigan and California, Buzzie recalled the fun he had traveling with DIRT motorsports or the All-Star League while in the Northeast.
"Running with the circuits was guaranteed money because the appearance fees would cover the gas money," he said. "They would advertise the shows, sometimes 100 lappers, and people would flock to the track. It didn't matter what night it was. They wanted to see the races. Since they didn't have racing in the winter, they knew that if they wanted to see racing, this was their chance."
The region featured a number of special events, many still running to this day. There were special races at the mile at the New York State Fairgrounds in Syracuse, the National 100 and the Eastern States 200 at Middletown, New York's Orange County Fair Speedway. He's been in the field and even picked up a few wins along the way. In fact, he had an invitation to compete in the 2009 Eastern States, but turned down the ride simply because he hadn't driven that type of car in a few years. He was supposed to have made a return to Middletown in July for a reunion event, but that was rained out.
When you encounter a man who has been racing for 55 years, the tendency is to ask about a rival, a favorite track, a memorable win. Buzzie is smart enough not to single out anyone in this case. His racing these days is on a 3/8-mile track. He's raced smaller and he's raced larger and he doesn't have a preference. Or maybe he does.
"I liked the bigger tracks," he admitted, quickly adding, "I don't prefer one over the other though. It's just that the bigger tracks give you a chance to hunt down the ones who are ahead of you."
Good Memories and Bad.
The Mile at Syracuse provided good memories and bad. Buzzie won a couple of the big special events, but he was also involved in a crash there in 1985 that slowed his racing career. For Buzzie, the good outweighed the bad. "The thrill of winning stays fresh in your memory," he said. "Now, though, I think more about the ones I should have won or could have won."
There are over 1,200 features that he did win. It's a rough estimate and may even be 1,300 by the time you read this. The October victory at East Bay was his second Modified feature win at the track. The class has been dominated by one driver, who has 9 wins in 13 starts. Buzzie and one other competitor, Shane Burrows, have the other two wins.
Buzzie getting ready to "put on a show".
On the week before his win, Buzzie wasn't competitive, but Jeff Mathews added his ninth win. It gave Buzzie a chance to reflect on the state of today's racing, which is much different than the past. "He won starting on the pole," said Buzzie. "Starting on the pole and winning a race is not fun for me. We need to start the fast guys in the back. If you go to an asphalt race, you'll see the fast guys up front. Everyone shuffles into a single file line. That's not putting on a show for the fans. We're like entertainers. We're supposed to be putting on a show that the fans enjoy and I don't think a lot of drivers realize it."
"When they're on the track, they don't realize they have an obligation to keep the show entertaining. When all the yellows come out for guys who are stopped on the track, some barely on the track, it just slows everything up."
Attitude of Today's Racer.
The attitude of today's racer in the pits is different. We've heard stories of racers playing practical jokes or mind games for competitive advantages (Buzzie once painted his springs a different color every week to make competitors think he was doing something different). Not anymore.
Racing against today's racers.
"Everybody sort of stays to themselves," Buzzie pointed out. "There's no camaraderie. It's just not the same and I miss that part of it. Everybody seems to be in their own little world."
Part of the blame rests with the demise of racing promotion. More tracks are run by operators, ones who maintain a facility and open the gates, but don't do anything about beating the drum or entertaining the fans once they are inside the gate. When a race track doesn't succeed, either a new "promoter" is found or the place closes. Buzzie has seen his share of race track closures and the effect it can have on the sport.
"I went to a Reading Reunion and realized just how much closing the track meant," he said. "There were people who just quit going. They didn't go to another track. There were some racers who just stopped racing and I'm sure some fans, too. When you close a track, you might end a career."
"There's seldom a day goes by here that someone doesn't mention Golden Gate Speedway. They enjoy the memories, but they miss the chance to go there. I think about places like that and Silver Dollar. That's progress, I guess, but there needs to be so much more done today to entertain the people."
In Victory Lane at East Bay Raceway Park.
Victory Lane.
Buzzie's October feature win was entertaining. Starting in the sixth position, with point leader Mathews inside that row, the15-car field set out for a 15-lap main. There wasn't much passing in the first three laps, but it heated up after that. Just before halfway, Buzzie had moved outside to take second. With Mathews inside, the two raced side by side with contact on occasion before Mathews left the track with a tire problem. Buzzie made his pass for the lead, again on the outside, with five laps to go.
In Victory Lane, an exhausted driver climbed from the Aaron's 00, and caught his breath before talking to track announcer Scott McAllister. "Our car wasn't right in the heat race, so we put some tires on it and the track came in to our liking. I didn't mean to get into the 33 and I know that's the way it happens sometimes. Now I have to call David and tell him I won. If this old man can do it, he should be able to win the Cup race (David finished eighth the next day). I hope everyone enjoyed it and I hope it's not as hot up there as it was in this car."
Within minutes, he was on the cell phone, talking to David, who is his car owner. Buzzie's latest car is a departure from the red, white and blue tradition. This car, sent to David and Brian Pattie after Buzzie wrecked it at Volusia Speedway Park, carries an orange and black body. The colors are there to commemorate Zephyrhills High School, the alma mater of Buzzie, David and Brian.
"The next one will be red, white and blue," Buzzie said.
Buzzie and David at the rain shortened Sprint Cup race that David won in May.
Special Day in May.
Buzzie isn't chasing points, but he's chasing enjoyment. Whenever there is an opportunity to watch David in person, Buzzie will be there. Father and son talk twice a day, every day. Sometimes, they talk about a special day in May.
East Bay was supposed to run Modifieds on May 23. Buzzie was leaning toward competing, but the weather was not in his favor. By late afternoon, he hedged his bet, believing the track would rain out and headed toward Charlotte for the NASCAR Sprint Cup race. East Bay did rain out, but so did NASCAR on Sunday. It meant Memorial Day Monday would be race day and Buzzie stayed. It was another good decision.
Many of you already know the outcome. David won the rain-shortened race, giving him his first Sprint Cup victory and putting a Reutimann in the record books.
Buzzie has plenty of memories. "Seeing that 00 on top of the pylon was something special," he said. "I just can't put it into words even today. I just kept thinking about how long it took, how much effort it took, how deserving he is. It's just a special feeling."
Unfortunately, there have been those quick to put an asterisk on the win since it was a rain-shortened race (Joey Logano is going through the same thing). A win is a win, but the Reutimanns still feel there's something to prove. "He wants to win one with everybody in it and I hope it's Charlotte," remarked Buzzie. "That would take the weight off of him. He wants to win again to back it up. It's good for us. I know I've won races like that myself."
"I'm one of the lucky ones. My son has made it. I've always been blessed that he's my son."
The last time David and Buzzie competed was earlier this year at Talladega Short Track and David was the winner. "He had better tires," said Buzzie.
Buzzie Reutimann is a man torn between his love of racing and his love of watching David race. Which would he rather do?
"I enjoy both immensely," he said, walking the tightrope of a question. "With my racing, it's the challenges. By going to watch David, well, there's no substitute for being there in the garage or on pit road. It's nerve wracking to watch him run 200 miles per hour. I wouldn't worry as much if I was doing, but it's worse when he's doing it."
And so the question goes unanswered as does the one about when Buzzie will step out of the car for the last time.
"I'm 68 now, so I guess I'll stop when I'm 70." The laugh that followed indicated that we can't put much stock in that answer.
He's in the DIRT motorsports Hall of Fame, inducted into the Eastern Motorsports Press Association Hall with his good friend Darrell Waltrip (whom he represented at the induction) and has a list of accolades that can fill the Zephyrhills race shop and then some. He's the man who purchased the first barrel of racing fuel from Sunoco when they got in the business over 30 years ago. He's still winning and making fans and friends wherever he goes.
He's Buzzie Reutimann and that's all you need to know.